Book Excerpts
Sample manufacturer's listing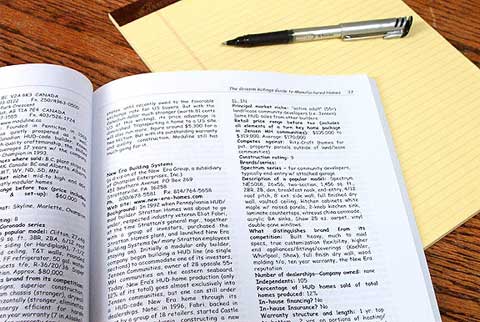 Deer Valley Homes (privately held)

205 Carriage St, PO Box 310
Guin, AL 35563
Ph. 205/468-8400
Fax 205/468-9060
Web site: www.deervalleyhb.com
Background: This start-up, founded in early 2004, may be the newest HUD-code builder in the SE, but its eight investors represent both youth and decades of MH experience. The company's president, Joel Logan, the son of Steve Logan, founder of Buccaneer Homes (which evolved into Cavalier), started Pinnacle Homes at age 27, later selling that company to Patriot in 1998. The sales manager previously ran two of four divisions of Southern Energy Homes. Deer Valley's business model: offer a single line of more heavily constructed package homes (no customization allowed) featuring T&T dry wall w/ bull nose corners throughout, heavier insulation (for Zone III) and 8-foot flat ceilings as standard. The strategy worked from the outset—the builder showed two models at the 2004 Tunica Home Show and took orders for 100 homes even before its production line was up and running. As this goes to press, Deer Valley is producing seven floors a day and has a 14 week back log. Plans are in the works to add modular homes to the product offering.
States where sold: AL, AR, FL, GA, KY, LA, MO, MS, NC, OK, SC, TN, TX, IL
Principal market niche: Educated shoppers, established cash buyers looking for a better constructed smaller affordable home in the mid-price range
Retail price range before tax (includes transportation and set-up): $59,000 to $129,000 (Deer Valley builds few triple-section homes)
Competes against: Cavalier, Southern Energy, Liberty, Franklin, Fleetwood
Construction rating: 6
Brands/series: Augustan, Blazer, Charleston — All virtually the same, with minor variances in decor, appliance packages, and floor plan offerings, at similar price points
Description of a popular model: DV 8008, 32x80, 2560 sq. ft., 4BR, 2BA, two-section, 1600 sq. ft., 2x6 ext. walls 16" O.C., 2x6" top & bottom plates, double-studded headers over windows/doors, 23/32" OSB floor decking, R-30/19/11, full finished " dry wall t/o, all windows dual-glazed, lg. kitchen w/ island sink, post form countertops w/ rolled edges, dual handle brushed nickel faucet, stainless sink, 16"-square hand-laid kitchen tiles (no rolled lino), breakfast nook, 17 cu. ft. over/under refrigerator, 16 oz. carpet w/ " rebond pad, porcelain BA sinks/toilet, 60" tub/shower, elec. outlet boxes secured w/ butterfly tabs, 40 gal. dual element water heater. Approx. $76,000.
What distinguishes brand from its competition: Full-finished dry wall t/o standard, heavier insulation, heavier construction, homes trimmed out by factory techs, good quality control and warranty follow up service.
Number of dealerships — Company owned: none Independents: 89
Percentage of HUD homes sold of total homes produced: 100%
In-house financing? No
In-house Insurance? No
Warranty structure and length: 1 year, factory-dispatched service techs, some regional contract work, service by dealers.
Web site rating: Unsatisfactory for informed home shoppers but has potential. Pros: available in Spanish (very smart), good looking home page, straightforward navigation, decent renderings of some exteriors, good interior shots; Cons: no list of features/options, several broken links, no list of dealers by state, a feeling of general incompleteness....
Comment: In a crowded SE market where T&T dry wall is only just beginning to catch on, Deer Valley came up with a formula for offering this (and other options) as standard features. The trade-off, to keep prices competitive, is virtually no customization, smaller selection of floor plans and few models over 2200 sq. ft. The formula has worked. Deer Valley homes' exteriors reflect the boxy, unimaginative, unmistakable look of a mobile home (because of the 8' side wall height, the roof pitch is closer to 2.5/12) but the look seems to fit comfortably with southern MH aesthetics. Likewise, some home interiors, particularly the bathrooms with tubs on pedestals framed with faux-Greek columns and avocado green walls, may strike some as pure Las Vegas kitsch. But give Deer Valley credit for knowing its market and offering something new and different. More important, this still-young company appears to have its ducks lined up and its priorities straight, especially its program of finish and trim-out by factory reps, and a commitment to good warranty service. Deer Valley will be an interesting company to watch.