From Rainshadow Publications, the two most comprehensive, trusted and authoritative guides to manufactured homes, written by veteran journalist and author John Grissim
About ordering print editions
To ensure the lowest cost for the print editions of The Grissim Buyer's Guide to Manufactured Homes and The Grissim Ratings Guide to Manufactured Homes, both books are now sold exclusively on Amazon.com. Simply click on the Buy Now button to be taken directly to the book's listing on Amazon.com.
As for the digital editions of the two guides, they continue to be sold exclusively on this site, either separately (for $18.95) or as a two-book special for $31.95.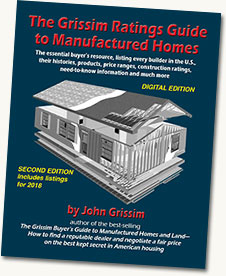 ISBN 9-780972-543637
88 pages, 8"x10" soft cover
Print edition $29.95
Digital edition $18.95
No eBook reader required.

New for 2018—Second Edition. Including all new 2018 listings
The Grissim Ratings Guide to Manufactured Homes (Second Edition)
The essential buyer's resource, listing every builder in the U.S., their histories, products, price ranges, construction ratings, need-to-know information and much more.
Completely revised, updated, and redesigned in a new format, this guide is the most popular consumer resource book ever published for manufactured home buyers, providing at-a-glance listings with key information home shoppers need to make an informed buying decision.
All 63 U.S. builders evaluated, with their 1-to-10 construction ratings
Brands and series described
Plus, an annotated construction rating chart with 56 criteria you can use to evaluate any home before you buy.
"An essential resource...a wealth of invaluable information...pulls no punches...strongly recommended. The potential home buyer will be best served by purchasing both books." The St. Petersburg Times (Florida)
Scroll down to read more
---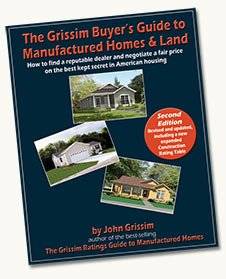 ISBN 0-9725436-2-7
192 pages, soft cover,
66 illustrations, 2 tables
Print edition: $29.95
Digital edition: $18.95
No eBook reader required.

Second edition—Revised and Updated
An invaluable resource for the 2018 marketplace
The Grissim Buyer's Guide to Manufactured Homes & Land
How to find a reputable dealer and negotiate a fair price on the best-kept secret in American housing
The second edition of the #1 bestselling consumer how-to guide to purchasing a manufactured home. This edition contains many revisions, up-dates and new material that make this invaluable resource even more useful to home shoppers.
"Outstanding research...jam-packed with information and advice...Fair and balanced....Will save money, time, effort and frustration." St. Petersburg Times (Florida)
"Finally, consumers have a detailed map of the manufactured home marketplace... Presents a huge amount of sophisticated information... above all, [how to] negotiate a fair deal..." Shelterforce magazine
Scroll down to read more
---
About The Grissim Ratings Guide to Manufactured Homes
John Grissim's bestselling The Grissim Buyer's Guide to Manufactured Homes & Land has been hailed as the definitive resource for navigating the tricky waters of the manufactured home marketplace. This equally well-received companion guide takes a close look at every manufacturer and the brands they build, providing up-to-date, essential information together with authoritative, no-nonsense insights that have made him a respected industry observer and voice for the home-buying consumer.
Each manufacturer's listing includes:
Company background and history
States where sold
Principal target customer
Retail price range
who they compete against
Construction rating on a 1-to-10 scale
Brands and series described
Description of a popular model
What distinguishes brand from competition
Warranty structure
Author's comments—and more.
About The Grissim Buyer's Guide to Manufactured Homes & Land
Manufactured homes are truly the best-kept secret in American housing. Many models are indistinguishable from conventional homes and offer great quality and savings. Yet for all their advantages–and there are many–manufactured homes are still sold like cars: through dealerships. Amazingly, manufactured retailers sales are even less regulated than used car dealers
Retailers historically have been highly secretive about how much they actually pay for the homes they sell. Unscrupulous dealers regularly charge home buyers thousands more for their homes than they should. That's outrageous.
This authoritative guide explains just how the manufactured home industry operates, exposes its secrets and reveals insider information that even the good guys don't want you to know.
Among the many additions to this second edition are a greatly expanded discussion on selecting the right home, including a new glossary of common terms used in manufactured home construction, plus a new three-page Construction Features and Specifications Comparison Table with 56 criteria. This table enables you not only to identify what features are associated with different levels of quality but also to determine the construction quality (on a 1-to-10 scale) of any home you are evaluating (independent of what any sales person may claim). This same table is also in The Grissim Ratings Guide, and is by far the most comprehensive detailed listing of construction features and quality ever provided consumers.
Among many topics receiving an expanded discussion in this second edition:
the installation (or set-up) process and the role of the set-up contractor, including a detailed installation check-list for home buyers.
Warranty issues, and how to deal with them, receive added emphasis.
Tips to better calculate the fair asking price for a home, together with a simple formula for determining your offering price during negotiations.
In short, this guide contains all the information and tools you will need to confidently–and successfully–go through the home buying process.